STUDY
Virtual AGM passes the test
A recent study co-published by GAULY and Germany's Investor Relations Association (DIRK) concluded that the virtual Annual General Meeting was adequate to its purpose. The core finding: The switch to the virtual format worked well overall, and did not negatively impact shareholder attendance.
To the research results (in German)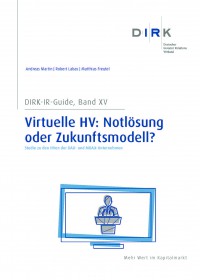 Welcome to Gauly
Trusted Advisors
for Strategy and
Communications
When the stakes are high: As trusted advisors, we support you in achieving your corporate goals through strategic communications.
Network
Well-Connected for Your Success
With our exclusive network of experienced Senior Advisors, excellent contacts in media and politics, and close partnerships with leading communications consultancies worldwide, we offer comprehensive strategic advice in all markets.
Learn more
Commitment
Socially Relevant Projects
Ever since the company was founded, GAULY has been committed to supporting institutions that are important for a humane and innovative society. We do this through pro bono work provided by our consultants as well as through financial donations. Through these "public investments" we make a contribution to society.
Learn more